The world of mobile filmmaking has seen a significant shift with the introduction of the
Blackmagic Camera App
on iOS.
The Surprise Release
The Blackmagic Camera App took many by surprise, marking a significant departure from Blackmagic's traditional offerings. With smartphone camera technology advancing rapidly, the release of the iPhone 15 Pro, capable of recording in ProRes and Log, presented an opportune moment for Blackmagic to step into the mobile app arena.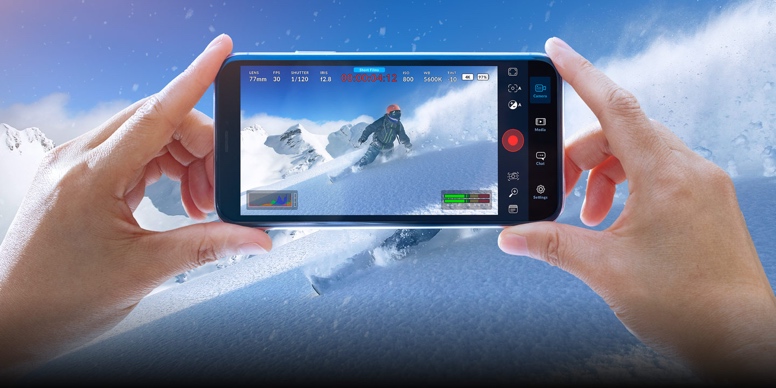 Features Galore
The Blackmagic Camera App brings professional-grade features to the palm of your hand. If you're familiar with Blackmagic's range of cameras, such as the Pocket Cinema Camera or the Cinema Camera 6K, you'll find the app's interface and functionality familiar. Key features include:
Zebra and focus peaking
Professional functions akin to Blackmagic OS
White balance, zoom, and autofocus settings
Audio monitoring
Media library management
Seamless Integration with DaVinci Resolve
One of the standout features is the app's integration with Blackmagic Cloud and DaVinci Resolve. Users can now record footage on their phone and sync it directly to a DaVinci Resolve system. This facilitates real-time collaboration between on-field videographers and editors, streamlining the post-production process.
User-Friendly Interface
While packed with professional features, the app's user interface is designed to be intuitive, catering to both novices and seasoned professionals. From zoom features to audio monitoring, everything is at your fingertips.
iOS-Centric Development
The decision to develop exclusively for iOS was driven by the consistent quality across Apple devices and the evolutionary path of their camera technology. While there's a vast market of Android users, the diversity in device specifications makes it challenging to maintain a uniform quality standard.
Future Updates and Enhancements
Blackmagic is known for its commitment to continuous improvement. Users can expect regular updates, enhancing the app's features and capabilities. And in true Blackmagic fashion, these updates will be available for free.
Comparison with Filmic Pro
While the Blackmagic Camera App offers a plethora of features, it's essential to compare it with other industry giants like Filmic Pro. Filmic Pro has been a favorite among mobile filmmakers for its advanced manual controls, live analytics, and integration with external hardware. However, the Blackmagic Camera App's seamless integration with DaVinci Resolve and its professional-grade features give it a competitive edge, especially for those already invested in the Blackmagic ecosystem.
The Blackmagic Camera App on iOS is set to revolutionize mobile filmmaking. With its professional features, seamless integration with post-production tools, and commitment to continuous improvement, it's a must-have for every mobile filmmaker, whether you're a vlogger, a professional videographer, or someone capturing memories with family. The future of mobile filmmaking looks promising, and Blackmagic is leading the way.