In the footsteps of
Olivier Ezratty
, let's see what are the biggest trends for the broadcast and video streaming industry at NABshow Las Vegas in 2023.
Forced march to the cloud for broadcast vendors
Another trend observed at the NAB show is the strong push towards cloud computing, with AWS Cloud being the popular choice for most companies, unless they have Microsoft as one of their stockholders.(e.g.
Mediakind
).
Supposedly, customers would want that. Recently, I've seen more streaming solutions and platforms going or thinking about going the opposite way, or at least spending much time (and consequently more money ironically) on
reducing abusive cloud costs
, no matter for storage, delivery, or transcoding.
What vendors (should if they don't) fear is the Amazon Marketplace/Amazon basics or the Netflix/Amazon Prime syndromes.
Amazon Basics is a private label brand owned and sold exclusively by Amazon. The brand was launched in 2009 and offers a variety of products such as electronics, household goods, office supplies, and more. Amazon uses its Marketplace platform to sell Amazon Basics products alongside third-party sellers, creating competition for those same sellers. One of the ways Amazon has been able to grab a substantial market share of its own Marketplace vendors with Amazon Basics is by using its immense amount of data to identify product categories that are profitable and in high demand. Amazon can then create its own version of these products under the Amazon Basics brand and offer them at competitive prices. In addition, Amazon has a significant advantage when it comes to product visibility on its Marketplace platform. Since Amazon owns the platform, it can give its own products priority in search results and product recommendations, making it more likely that customers will see and purchase Amazon Basics products over those of third-party sellers Another factor is that Amazon Basics products benefit from the reputation and trust that the Amazon brand has built with its customers. Customers who have had positive experiences with Amazon in the past may be more likely to choose Amazon Basics products over those of unknown third-party sellers. Finally, Amazon can leverage its logistics and supply chain infrastructure to quickly and efficiently produce and distribute Amazon Basics products. This allows Amazon to offer these products at lower prices than third-party sellers, making it more difficult for those sellers to compete.
Putting their product on AWS or another cloud provider doesn't make them a 'partner', it makes them another source of income (with not much effort as the 'AWS partner' is doing the marketing and communication) for the cloud provider and a perfect and free market research for the cloud provider. It's highly likely that AWS would adopt a similar approach, and in fact, it has already done so on web pages featuring solutions like 'Streaming Media'. On these pages, AWS Services are given the top position, followed by AWS Solutions, and then finally, partners' solutions are listed last. Similarly the dedicated
AWS article about NAB
only lists AWS Elemental products.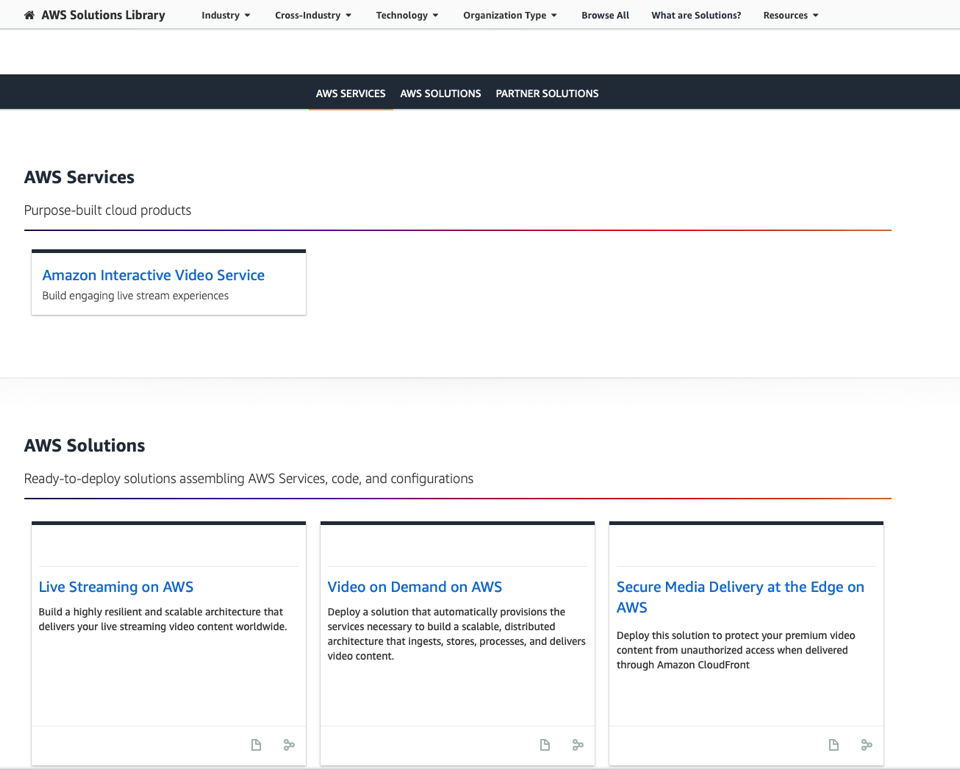 Partners are really hidden on AWS Solutions Library
Ad-supported models like FAST and AVOD
As the economy experiences a downturn and video platforms experience turnover, there is a growing trend towards ad-supported solutions like FAST Channels, with Pluto.TV serving as a successful example. Google TV has recently made a major announcement, stating that it would be adding 800 free channels to its lineup. Given that Google currently has the largest market share for ad-supported videos, this development is significant news for existing FAST channels or SVOD services that may be interested in transitioning to an AVOD model.