A playout system, also known as a video server or broadcast automation system, is an essential component of video broadcasting and streaming workflows. It manages the storage, retrieval, and playback of video content for live and pre-recorded television channels, internet streaming, or other media platforms. Playout systems ensure that video content is played out according to a predetermined schedule and with the desired branding, graphics, and other elements.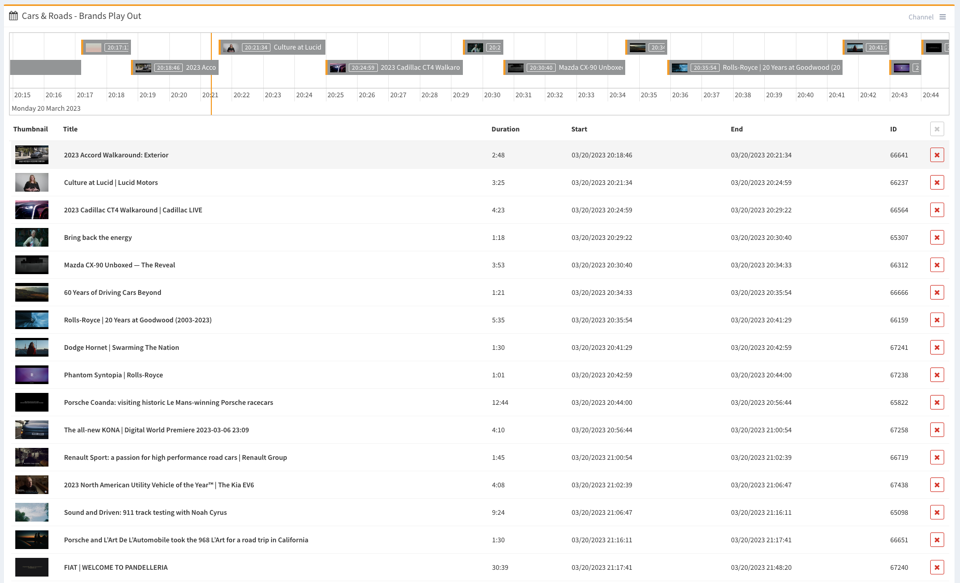 Components of Playout Systems
A typical playout system consists of several components that work together to facilitate the broadcasting or streaming process:
Media Asset Management (MAM): MAM is a software solution that organizes and manages the storage, retrieval, and metadata of digital media files. It simplifies the process of searching, accessing, and managing video content within the playout system.
Video Server: A video server stores and plays out video files in a specific format and resolution, ensuring seamless playback and accurate timing of content.
Broadcast Automation: Broadcast automation is responsible for scheduling and executing playlists, and controlling the overall playout process.
Channel Branding: This component adds logos, graphics, text overlays, and other visual elements to the video content to maintain a consistent brand identity throughout the broadcast.
Video Monitoring and Quality Control: Playout systems may include tools for monitoring and ensuring the quality of the video content, including checking for signal integrity, video resolution, and audio levels.
Playout Systems in Live Streaming
In the context of live streaming, playout systems enable content creators and broadcasters to schedule and play out live video content to various online platforms. This involves encoding the live video feed, streaming it to the desired platform, and managing the necessary graphics, overlays, and branding elements. Playout systems for live streaming may also include adaptive bitrate streaming capabilities to ensure optimal playback quality for viewers with different internet connection speeds.
Playout Systems in Video on Demand (VOD)
For video on demand (VOD) services, playout systems are responsible for managing and delivering pre-recorded video content to viewers on request. This involves transcoding the video files into multiple formats and resolutions, ensuring compatibility with various devices and platforms, and managing metadata for search and recommendation features.
Benefits of Playout Systems
Playout systems offer numerous benefits for video broadcasting and streaming, including:
Efficiency: By automating the playout process, broadcasters can save time and resources, and streamline their content delivery workflows.
Scalability: Playout systems can be scaled up or down to accommodate varying channel lineups, audience sizes, and content libraries, making them suitable for organizations of all sizes.
Consistency: Channel branding and broadcast graphics can be easily managed and updated across multiple channels and platforms, ensuring a consistent brand identity.
Flexibility: Playout systems can be customized to handle various types of content, such as live events, pre-recorded shows, and VOD services, providing flexibility for broadcasters and content creators.
Quality Control: Built-in video monitoring and quality control features ensure that the content being broadcast or streamed meets the desired technical and aesthetic standards.
Real playout horizontal view for Cars and Roads - Brands TV Channel
Please see below an example of our touch-optimized play out system, for the TV channel at the bottom of this page. You can pinch (or scroll) to zoom, click/touch to slide.
Get your own cloud playout system for free to manage your VOD2Live, virtual channels or FAST channels
iReplay.TV Free trial
No subscription
No credit card required
Article written by
Sylvain Corvaisier (LinkedIn)
Last modified: March 29th, 2023
Blog articles
Share this article