When are Azure Media Services retiring
June 30, 2024.
tl;dr Analysis on the retirement of Microsoft Azure Media Services
Microsoft Azure Media Services has struggled to remain competitive, essentially mirroring the pricing of AWS Elemental services but with a more limited feature set (even more expensive than AWS for
max expected cost per viewer
. This lack of differentiation is further compounded by the fact that all video services rely on the same cloud media services, making it virtually impossible to offer unique value propositions. The
CDN calculator tool for streaming
clearly illustrates that AWS has consistently been considered an expensive solution for media, limiting customer profitability and hindering the ability to deliver competitive services comparable to Amazon Prime. Notably, even Amazon Prime Video itself has transitioned from microservices to a monolithic approach, reducing costs by 90% in the process.
As recommended by Jeff Bezos-owned Washington Post when AWS outages happen: Don't put all your eggs in one basket
Two years ago, Microsoft invested in Ericsson Mediakind with the goal of migrating its customers to a cloud-based (Azure) approach. However, the current layoffs at Mediakind, which include former colleagues of the author of this article, raise concerns about the stability and viability of this migration strategy. The coherence of Microsoft's overall strategy has always been questionable, and the proposed migration to Mediakind does little to instill confidence.
In this landscape where differentiation is virtually impossible due to the shared cloud media services, it becomes crucial for companies relying on Microsoft Azure to explore alternative strategies. We strongly advise against duplicating the same approach with AWS, as even Amazon does not follow this path for its own video services. Now is an opportune time to consider alternative strategies that offer greater profit margins and allow for in-house control. For further insights, you can learn more about one such strategy
here
, which explores scaling up video services while significantly reducing costs by 90%."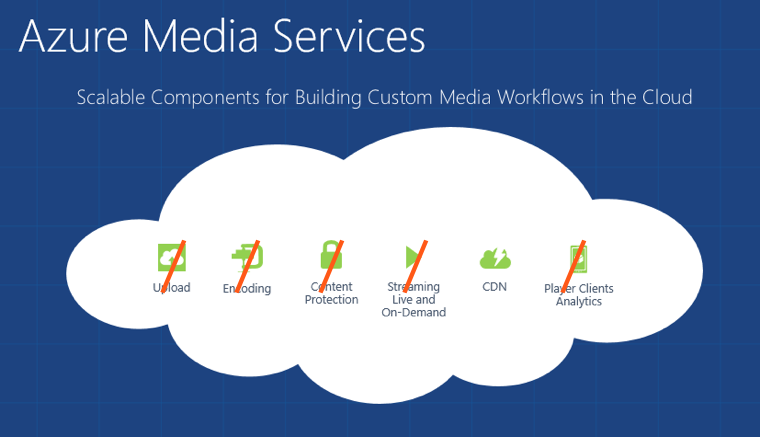 Why is Azure Media Services being discontinued?
The retirement of Azure Media Services is a strategic decision made by Microsoft to focus on areas of long-term competitiveness and secular growth for the company. Microsoft aims to accelerate the availability of media services solutions from its partner ecosystem, including integrated solution vendors and system integrators. This approach ensures that Azure users have access to a diverse range of high-quality media services solutions.
Is Azure Video Indexer being retired?
No, Azure Video Indexer is not part of the retirement of Media Services. While Video Indexer currently relies on a Media Services account as part of its workflow, this dependency will be eliminated before the retirement of Media Services on June 30, 2024. For more information, refer to the impact of Media Services retirement for Video Indexer.
Do I still need to migrate from Media Services v2 APIs to V3 APIs?
No, there is no longer a need to migrate from Media Services V2 APIs to V3 APIs. Microsoft will send further communication to all customers who are still using V2 APIs to ensure they are aware of this change. Both V2 and V3 APIs will be retired simultaneously on June 30, 2024.
What will happen to customer data after the retirement date?
There are two types of data stored in Azure for Media Services: customer videos and associated files (such as .ism, .ismc, and .mp4 files) that constitute a Media Services asset, and Media Services account data. Customer videos and associated files will remain unaffected by the retirement of Media Services as they are stored in the customer's Azure Storage account. However, all account data, including streaming endpoints, live events, and asset metadata, will be deleted as part of the retirement process.
What migration options will be available for existing Media Services content?
Both MediaKind and Harmonic will offer dynamic packaging of existing Azure Media Services (AMS) content without requiring the content to be relocated or reprocessed in most cases. Alternatively, Microsoft will release an open-source tool that allows you to convert Media Services assets to CMAF format with HLS and DASH manifests, enabling content to be directly streamed from Azure Storage. Details about this tool will be provided in the Media Services retirement guide when it becomes available.
Is Azure Media Player also being retired?
Yes, Azure Media Player will be retired on June 30, 2024. The Media Services retirement guide lists alternative video players offered by partners for customers to use.
Will partner solutions be available in the same Azure regions as Media Services?
Partner solutions will be available in a more limited set of regions compared to Media Services. Harmonic and MediaKind, the featured partners, plan to provide coverage across North America, Europe, Asia Pacific, South America, Australia, and India. While full availability in these regions may not be achieved by June 30, 2023, efforts are underway to expand coverage in these areas.