As a live-streaming broadcaster on Twitch, you want to ensure your streams are engaging, lively, and memorable. One way to achieve this is by adding music to your stream. However, when it comes to archiving your streams as Video on Demand (VOD), playing copyrighted music can lead to problems. Copyrighted music can be detected and muted, making your VODs less appealing and potentially infringing copyright laws. Thankfully, OBS Studio has a solution for this: enabling a separate audio track for your Twitch stream. In this article, we'll guide you through the process of setting up a separate audio track for music in OBS Studio, allowing you to archive your streams as VODs without copyright issues.
Understanding the Basics: What is OBS Studio?
Open Broadcaster Software (OBS) Studio is a popular, open-source software for video recording and live streaming. It provides extensive customization options and features that allow you to control every aspect of your live stream, including audio management. One of these features is the ability to separate your audio sources into different tracks, which can be instrumental in managing music on your Twitch streams.
Preparing Your OBS Studio for Multi-track Audio
Before you start, make sure you have the latest version of OBS Studio installed. OBS is continually updated with new features and improvements, so having the most recent version ensures you have access to all the capabilities the software has to offer.
To prepare for multi-track audio streaming, you'll first need to open OBS and navigate to the Settings menu. From there, click on the Output tab, then on the Recording tab. You'll see an option labeled "Audio Track" with checkboxes next to numbers 1-6. These numbers represent different audio tracks that you can configure. Ensure you have at least two audio tracks selected.
Setting Up Your Audio Devices
Next, navigate to the Audio tab in the Settings menu. Here you'll configure your audio devices. You can set up your Desktop Audio (the audio that your viewers can hear, such as game sounds) and your Mic/Auxiliary Audio (your voice). Make sure your audio devices are correctly set up.
Adding a Separate Audio Track for Music
To add a separate track for music, you'll need a music source. This can be a media source within OBS or a music player on your computer. Add this source to your scene just like you would any other source.
Once your music source is added, navigate to the Advanced Audio Properties. You'll see a list of all your audio sources and the tracks they are assigned to. Assign your music source to a different track than your primary audio.
Streaming to Twitch with Separate Audio Tracks
When you're ready to start streaming, your Twitch stream will include all the audio tracks you've selected in OBS. However, only the first audio track will be included in your stream's VODs. If you want to select another track for the VOD tick the "Twitch VOD Track" checkbox as seen below. This means you can include music in your live Twitch stream, but it will be excluded from the archived VOD, avoiding potential copyright issues.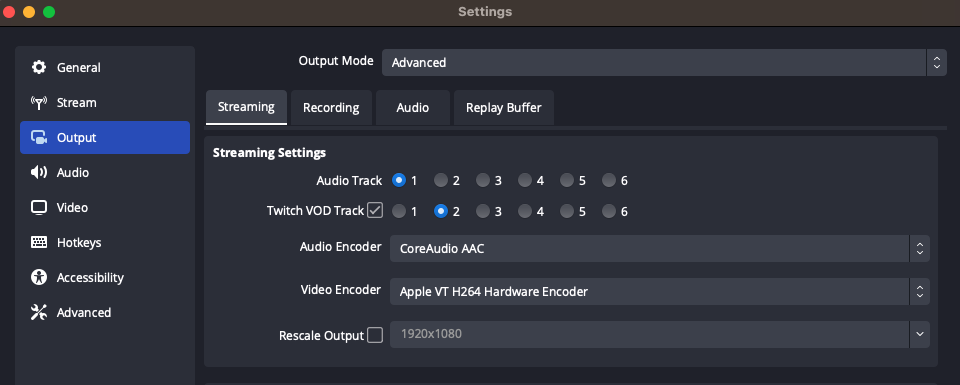 Additional Tips for Avoiding Copyright Issues
While this guide covers how to separate your music track from your VODs, it's also important to consider the legality of the music you're streaming. Twitch has a strict policy on copyrighted music, so make sure to use copyright-free music or music you have the rights to use in your streams. This will ensure you stay within Twitch's guidelines and avoid any potential copyright issues.
Enhancing your Twitch streams with music doesn't have to come at the cost of your VODs. With OBS Studio's ability to set up separate audio tracks, you can offer your live viewers an immersive andengaging experience while preserving the integrity of your VODs. Understanding and implementing these features are crucial steps towards professional streaming, ensuring you deliver high-quality content to your audience, both live and archived, without running afoul of copyright laws.
Remember, the key is not only to separate your audio tracks but also to respect the rights of music creators by only using music you have the rights to use or that is free from copyright restrictions. This way, you'll keep your Twitch channel safe from potential copyright issues, while keeping your audience entertained.
Keep in mind that this guide is intended to help you set up separate audio tracks in OBS Studio, but the specifics might vary depending on your unique setup and the version of OBS Studio you're using. Always refer to the latest official OBS Studio documentation or seek professional advice if you're unsure about any steps.