With the rise of social media platforms like TikTok and Instagram, the demand for live streaming vertical videos has significantly increased. Live streaming vertical videos can be challenging as they require specialized encoding to ensure that the video is of high quality and the audio is in sync. To achieve this, a transcoder is needed, but which one should you use? In this article, we will discuss the recommended transcoder for live streaming vertical videos on platforms like TikTok and Instagram.
Before we dive into the recommended transcoder, let's first understand what a transcoder is and what it does.
What is a transcoder?
A transcoder is a software that is used to convert one video format to another. It is commonly used to reduce the file size of a video to make it easier to upload or stream. A transcoder also adjusts the video's bitrate to ensure that it can be streamed smoothly without buffering.
Now that we know what a transcoder is let's look at the recommended transcoder for live streaming vertical videos on TikTok and Instagram.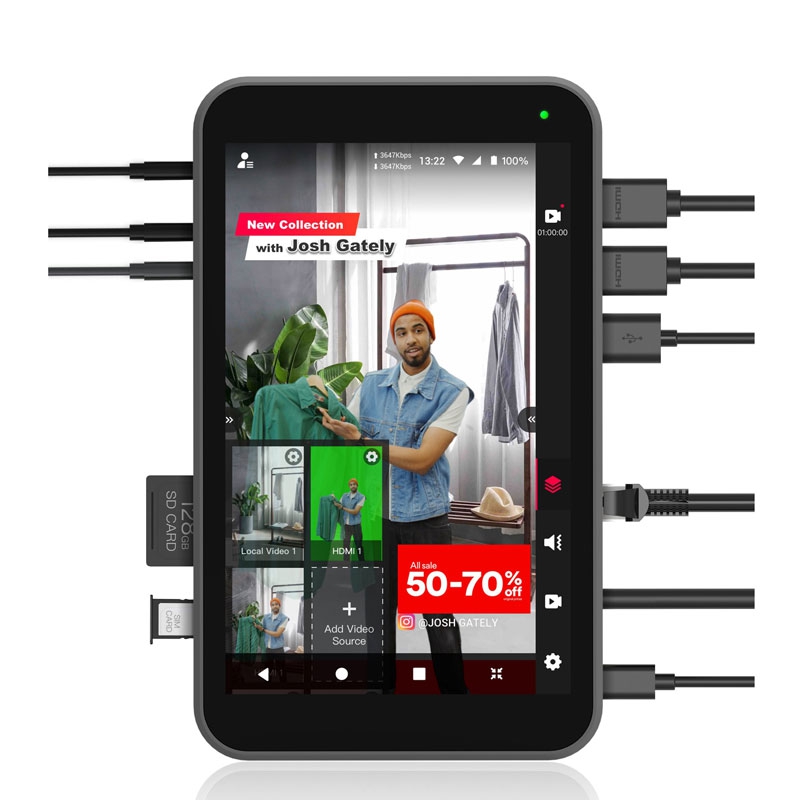 What is Yololiv and the Yolobox?
Yololiv is a brand of live streaming equipment, including cameras, video switchers, and other accessories, targeted towards content creators, YouTubers, and streamers. The brand offers a range of products designed to enhance the quality of live streaming and provide users with a professional setup to engage their audience.
YoloBox is a portable live streaming studio that allows users to stream, record, and switch between up to five video sources. It is designed for content creators, event organizers, and video professionals who need a reliable and versatile tool for live streaming and recording events.
The YoloBox features a 7-inch touch screen display, which allows users to preview and switch between video sources, add graphics, and adjust audio levels in real-time. It supports HDMI and USB-C inputs, which makes it compatible with a wide range of cameras, smartphones, and other video sources.
The YoloBox can stream to popular social media platforms like Facebook, YouTube, and Twitch, and it also supports RTMP and RTSP protocols for custom streaming setups. It can stream in up to 1080p resolution and supports H.264 video compression for efficient streaming.
In addition to live streaming, the YoloBox can also record videos to an internal SD card or an external USB drive. It can record in up to 4K resolution, which makes it suitable for professional video productions.
The YoloBox has a built-in battery that provides up to three hours of streaming or recording time, and it can also be powered by an external battery or a USB-C power source. It is compact and lightweight, which makes it easy to transport and set up at different locations
What is Yololiv Instream?
Yololiv Instream is the new version targeting especially vertical video streaming since the v1.1.0 software revision, with platforms such as Instagram Live and TikTok Live, and Skype, Facebook, WeChat and others being planned. Pricing is in the usual range for the brand, at $999.00