In a surprising turn of events, Anjali Sud, the CEO of Vimeo, recently announced her decision to step down from the video-sharing platform. Making waves in the tech industry, Sud has chosen to embark on a new journey by joining Tubi's FAST streaming service. This significant transition is sparking discussions about the future of Vimeo and its financial standing.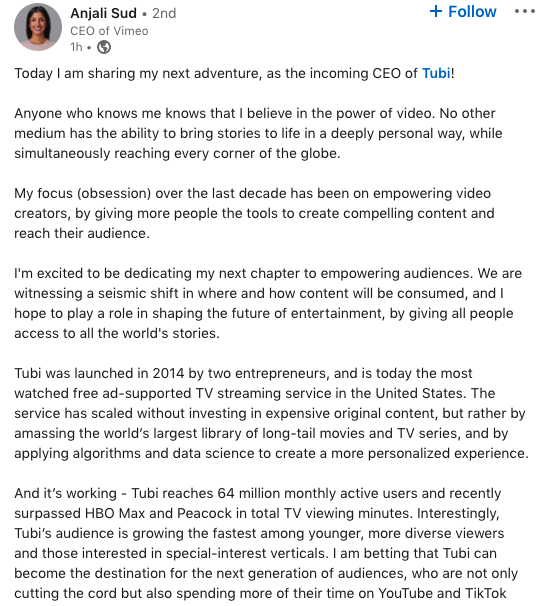 Anjali Sud's Departure
Anjali Sud has been an instrumental figure in Vimeo's growth and transformation. Since joining the company in 2014, she played a pivotal role in steering the platform towards becoming a leading video software and services provider for businesses, creators, and individuals. Under Sud's leadership, Vimeo experienced substantial expansion, marked by innovative product developments and strategic partnerships. However, with her departure, the company faces an important transition period and the challenge of finding a capable successor to continue its growth trajectory.
The Tubi FAST Streaming Service Opportunity
By joining Tubi's FAST streaming service, Sud has taken a significant step in her career. Tubi is a free, ad-supported streaming service owned by Fox Corporation. It offers a vast library of movies and TV shows, providing viewers with a wide range of entertainment options.
Vimeo's Revenues and Losses
As Sud leaves Vimeo, it's essential to examine the company's financial landscape. Vimeo, a subsidiary of IAC/InterActiveCorp, generates revenue primarily through its software-as-a-service (SaaS) offerings, including its renowned video creation tools, hosting, and distribution services for businesses and creators. While specific financial figures for Vimeo are not publicly disclosed due to its status as a private company, recent reports have indicated steady revenue growth.
In 2021, Vimeo reported its first quarterly profit, a significant milestone for the company. This positive performance was attributed to increased demand for video tools and services during the COVID-19 pandemic, as more businesses and creators turned to online platforms for their video needs. Additionally, Vimeo's enterprise business segment experienced notable success, catering to larger organizations and providing tailored solutions.
However, it's important to note that Vimeo has also faced challenges and incurred huge losses in the past and since. Like many technology companies, Vimeo invested in product development, marketing, and expansion efforts to capture a larger market share. These investments have contributed to short-term losses but were intended to drive long-term growth. The departure of Anjali Sud adds an additional layer of uncertainty to the company's financial outlook, raising questions about how Vimeo will navigate this transition period.