tl;dr
If you want clear 'minute-based' pricing instead of an unclear 'fair usage 2 TB threshold' model and desire advanced features such as 1080p60 live streaming with failover, HTTP streaming compliant with modern Apple recommendations, time-shifting/rewind/DVR capabilities, m3u8 HLS URL for your apps, professional services for important live streaming events with no $25,000 requirement, no commission on sold subscriptions, or just between 5x and 13x reduction in your Vimeo/Livestream bandwidth costs, please scroll directly to the
bottom of this page.
For a long time, Vimeo has been established in the market and was regarded as a premium platform. However, its reputation for premium UI, workflows and... bandwidth/traffic pricing, is not matched by its video quality and reliability. On top of that, many customers have consistently raised concerns about the 'fair usage 2 TB threshold' policy.
What is the iReplay.tv HTTP Streaming score for Vimeo?
iReplay is testing what an online video provider is outputting against the official Apple HLS Authoring Specification for Apple Devices as they have been the recommendation for the whole industry since 2009, and Apple HTTP Streaming Tools are used for all interoperability checks (transcoders, packagers, streaming servers, players)
Vimeo customers can receive the full score details with their iReplay free trial.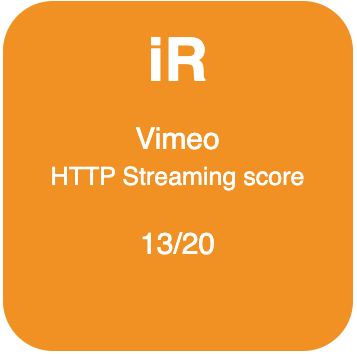 Vimeo/Livestream.com HTTP Streaming score: 13/20
Estimated cost for a 1000 HD viewers 1-hour live stream following Apple recommendations
Not fully possible as the max bitrate doesn't seem to be able to go beyond 5.5 Mbps but
Yearly Advanced Plan: $780
Data overage (565 GB): $67.80 (if you manage to negotiate $0.12 per GB as this won't be the offer you will get, and it will probably take some time)
Total without professional services: $847.80 (iReplay.TV: $63.00)
Platinum Support Level for a live event with professional services: $25,000
Total with professional services: $37,067.80 (iReplay.TV: $143.00)
Restrictions that prevent full compliance with Apple HTTP Streaming recommendations:
1080p30 maximum
5.5 Mbps maximum bitrate
3-second segment duration
Rewind requires Business plan
First impression (before registration)
The initial impression of Vimeo.com is highly positive. It's evident that the website was created with Video-on-Demand (VOD) in mind from the outset, as the sole video available on the homepage is a looped on-demand video (depicting a live stream though), nicely designed with rounded corners. The entire webpage is a blend of elegant fonts for brief text, featuring notable testimonials and the number of users (Vimeo is a public company... with substantial losses).
The Vimeo user interface is unmistakably influenced by Apple, and it has consistently improved over time to give the impression of professional video services, particularly since shifting to the enterprise market after YouTube matched their video transcoding quality in the early 2010s.
Vimeo's history and this user interface both inspire confidence. However, a pricing page quickly reveals that the company is aiming for enterprise and SaaS markets rather than being solely focused on high-quality video services and creators as it was 15 years ago. The pricing structure closely resembles that of Salesforce, with a "per seat" pricing system and minimal information provided on video usage and video streaming-related features (which are virtually non-existent).
Even though transcoding, storage, bandwidth, or support expenses represent a significant portion of the cost structure (even for Vimeo customers), they are not listed at all. Consequently, the pricing page is primarily aimed at managers who lack a solid understanding of video architecture and delivery expenses.
Free trial impressions
The trial period offered for testing the HTTP Live Streaming (HLS) Authoring Specification for Apple Devices is extremely short on Vimeo, as we could not even reach the 8.2 section recommendation (15 minutes) for time-shifting if following the H264 1080p recommendation (1.25 section) as you can test for only... 10 minutes. Out of all the platforms tested, only Vimeo did not provide this level of quality for the specified duration in its free trial. The output reached was below Apple's recommendations (5500 kbps vs 7800 kbps) and the framerate was divided by 2 (30 vs 60), as was the segment duration (3 vs 6). The video quality was significantly reduced from our 720p, 3 Mbps test stream, even when outputting H264 1080p30 High Profile Level 4.2, 5.5 Mbps and that seemed to be the best we can get out of it. Wowza servers were utilized for live streaming, and they are unfortunately known for not producing high-quality videos and incorrectly packaging HLS. So the premium cannot be seen at all on the live streaming for sure.
This limited test reveals that Vimeo's weakness lies in its bandwidth/traffic capabilities. In 2022, Vimeo made headlines for charging exorbitant amounts to subscribers who were considered part of the 1%, prompting many customers to migrate to competitors. Although Vimeo has since revised its policy, the cost of bandwidth remains high. If you have a single event with 1000 viewers and use Apple H264 recommendations for live streaming, you can easily exceed the 2TB limit within 36 minutes and incur overage charges.
As an EU citizen, I am sensitive to GDPR compliance, but I have not come across any option for a delivery solution based in Europe.
Bottom-line
Vimeo was once considered a high-end video platform, but now it caters primarily to enterprises with limited video requirements or substantial financial resources as a SaaS platform.
Vimeo's handling of the bandwidth issue leaves much to be desired. Despite having a comprehensive support page on the topic (
https://vimeo.zendesk.com/hc/en-us/articles/360037761072-Bandwidth-on-Vimeo
), the lack of clear pricing in GB or TB can be frustrating for customers who don't rely solely on accounting services to blindly pay their bills. This can give the impression that Vimeo's supposedly professional video service is actually quite unprofessional, as customers may feel they are being charged way more than their plan was chosen for, being sold the promise of "unlimited bandwidth" at that time.
Based on online quotes like
this one
, it appears that an enterprise plan on Vimeo costs $12,000 per year with a rate of $0.10 per GB for up to 120 TB. Overage fees are set at $0.12 per GB, which is reasonable when compared to other providers with cheaper annual plans. However, this still results in a charge of $0.005 per minute, on top of a $12,000 annual fee, for a quality that is not top-notch.
Despite the high price, only Silver support is included in this package and the $25,000 Platinum Live event support level is still required for live event assistance. Even with this support level, customers are only entitled to one live event support per year. Additionally, a dedicated support specialist is only available at this $25,000 Platinum support level. An urgent matter is considered a 30-minute response time, which seems very long when having trouble with a live-streaming event.
Who is it made for?
The answer here is similar to the one for Brightcove. Obtaining answers for straightforward inquiries such as the expense of a one-hour live streaming event with 1000 viewers and 7.8 Mbps (in accordance with Apple's recommendation) -something they don't seem to provide, no matter which plan you choose - is impossible to obtain, both from their pricing pages where traffic and bandwidth costs are not even listed or through Vimeo representatives. Thus, this platform would be suitable for companies or public organizations that are not concerned about the cost but rather rely on Vimeo's high-end reputation. Vimeo appears to be an online video provider with excessive pricing and staffing but a pleasant user interface, which may not be the best choice for those caring about video quality, reliability, and costs.
How to reduce Vimeo costs (up to 13x) and get features such as full compliance with the industry HTTP Streaming recommendations, 24x7 TV channels, full time-shifting/Rewind/Start-over/DVR, M3U8 HLS URL, dedicated expert for your live streaming events and more?
By opting for iReplay.tv's repeater feature for your video and live events, you have the option to retain your Vimeo subscription while also reducing your delivery costs. If the outcomes meet or surpass your expectations, you can transition entirely to iReplay.tv for superior video quality, dedicated professional services from experienced experts of over 20 years, and transparent billing.
Please
sign in with LinkedIn
for a free trial now