YouTube TV recently announced Multi View for sports, demonstrating one of the possible uses for a video grid.
Multiview as a Video Producer
Multiview's video producer capabilities enable creators to experiment with different angles and perspectives to produce captivating content. The multiangles feature allows broadcasters to switch between multiple camera angles with ease, ensuring a dynamic and immersive viewing experience. This is particularly beneficial for live events, sports, and other fast-paced content, where capturing every moment from the best possible angle is crucial.
With its advanced mixer functionality, Multiview empowers creators to seamlessly blend audio and visual elements to create an immersive multimedia experience. This not only simplifies the editing process but also provides video producers with more creative control over their content.
Tools like Switcher Studio, Roland Aerocaster or Blackmagic Design Atem Mini make it easy for anyone to manage Multi-View production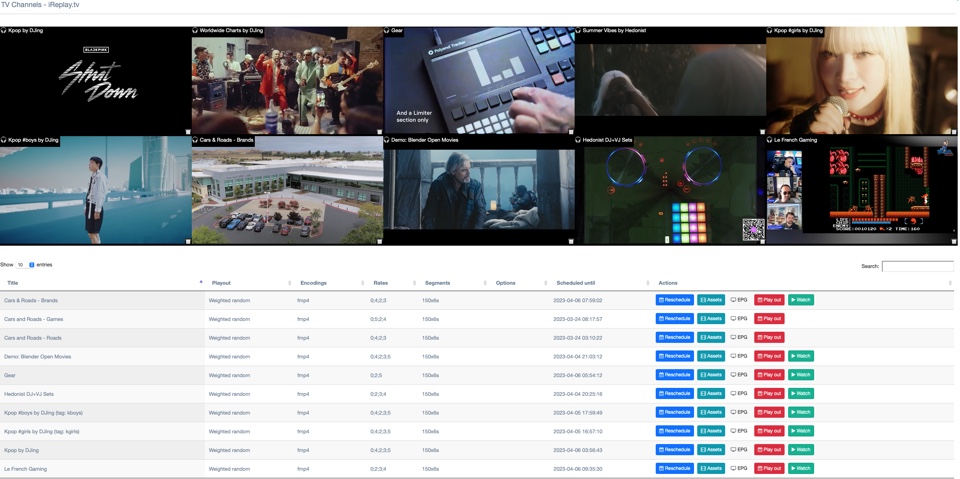 iReplay.TV VOD2Live channels Multi-view live monitoring
Live Streaming Platform
The live monitoring feature is a game-changer for creators, allowing them to keep track of their live streams in real-time. This ensures that any technical glitches or unexpected issues can be swiftly addressed, maintaining a smooth and enjoyable experience for viewers.
Engaging Audiences
Audience engagement is at the core of Multiview's mission. By offering a diverse range of angles, viewers can choose their preferred perspective, ensuring a personalized and immersive experience. This level of interactivity helps creators foster a deeper connection with their audience and keeps viewers coming back for more.
Multiview's video grid and video wall features also make it easy for viewers to discover new content and creators, encouraging a vibrant and dynamic community of users. The ability to interact with multiple video streams at once keeps audiences engaged and captivated, ensuring they never miss a moment of their favorite content.
Engaging audiences with iReplay.TV viewer's cut
Using HLS Alternate Video tracks, viewers can select their preferred scene in a multi-angle stream and share their final cut with others, creating a unique, 'recut, 'remixed' version of the original content.
What are HLS Alternate Video tracks?
HLS Alternate Video Tracks are essentially different video streams that can be played alongside the primary video track. These alternate tracks can include additional camera angles, alternate language versions, or supplementary content. Unlike adaptive bitrates, which are designed to adjust video quality according to the user's bandwidth and device capabilities, alternate video tracks are meant to provide additional viewing options and enhance the overall user experience.
Here's how HLS Alternate Video Tracks work:
Content creators or video producers create multiple video streams, which could feature different camera angles, languages, or supplementary content.
These alternate video tracks are then incorporated into the HLS manifest file (usually an M3U8 file), along with the primary video track.
During playback, the video player presents the available alternate video tracks to the viewer, allowing them to switch between the different streams according to their preferences.
Some use cases for HLS Alternate Video Tracks include:
Sports events: Multiple camera angles can be provided, allowing viewers to choose their preferred perspective and have a more immersive experience.
Concerts and performances: Viewers can switch between close-ups of individual performers, wide shots of the entire stage, or even behind-the-scenes footage.
Educational content: Alternate video tracks can provide additional explanations, translations, or visual aids to support the primary content.
Accessibility: Alternate video tracks can include sign language interpretation or descriptive video services for viewers with hearing or visual impairments.