MV-HEVC stands for Multiview High Efficiency Video Coding. It's an extension of the standard High Efficiency Video Coding (HEVC) that allows for the encoding of multiple views, or perspectives, of a scene within a single video stream. This is particularly useful for 3D video, where two perspectives (one for each eye) are required to create a stereoscopic effect, giving the illusion of depth.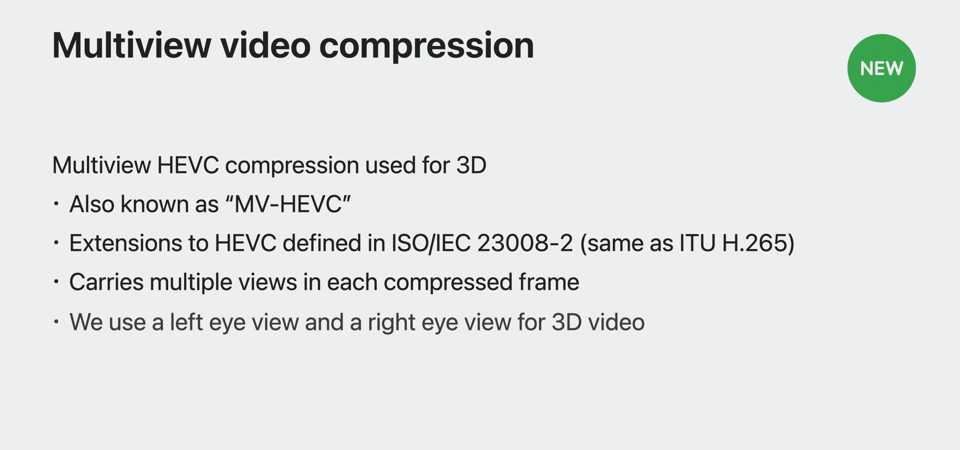 The MV-HEVC approach to 3D video involves encoding two slightly different views of the same scene (left and right) into a single video frame. This process involves a technique called "2D Plus Delta," where the differences (or delta) between the left and right images are determined and encoded. This allows 2D decoders to use the base 2D view (usually the left eye view), while 3D decoders can calculate and present both views to the corresponding eyes.
This multiview approach offers efficiency benefits, as it exploits the high degree of similarity between the different views of a scene, reducing the amount of data required to represent the additional views.
Which camcorder is capable of supporting MV-HEVC or 2D Plus Delta? Currently, there are no other camcorders compatible with MV-HEVC, apart from the Apple Vision Pro itself. Starting in September 2023, you can now capture Spatial Video for the Apple Glasses headset using iPhone 15 Pro or iPhone 15 Pro Max, enabling content production directly from this device
Learn more in the
dedicated WWDC session
, with also the new REQ-VIDEO-LAYOUT HLS tag to handle 3d stereoscopic videos