tl;dr
If you want clear 'minute-based' pricing and all-included services instead of a subscription plan that still requires add-ons and payment commission for any paywall, and if you desire advanced features such as failover, 24/7 TV Channels, HTTP streaming compliant with modern Apple recommendations, please scroll directly to the
bottom of this page.
What is Boxcaster?
Boxcaster is a term that is often used interchangeably with Boxcast, but it specifically refers to a device that is used to stream live video content to the Boxcast platform. The Boxcaster device is a hardware encoder that is designed to be used with Boxcast's live streaming service. It connects to a camera or other video source and compresses and encodes the video signal, which is then sent to the Boxcast platform for distribution to viewers. While there are now more affordable and better-performing devices available in the market, such as the Roland Aerocaster, the hardware encoder used by this online provider remains a distinctive feature. This is particularly relevant as the options for differentiation between live streaming platforms are limited, making the hardware encoder a valuable asset for this particular provider.
Several online video providers utilize the term 'unlimited' in their pricing plans, but they may obscure the actual details in small mouseover text. It's impossible for elements like storage and bandwidth, which have physical limitations, to be truly unlimited. Thus, broadcasters should carefully scrutinize these claims.
What is the iReplay.tv HTTP Streaming score for Boxcast?
iReplay is testing what an online video provider is outputting against the official Apple HLS Authoring Specification for Apple Devices as they have been the recommendation for the whole industry since 2009, and Apple HTTP Streaming Tools are used for all interoperability checks (transcoders, packagers, streaming servers, players)
Boxcast customers can receive the full score details with their iReplay free trial.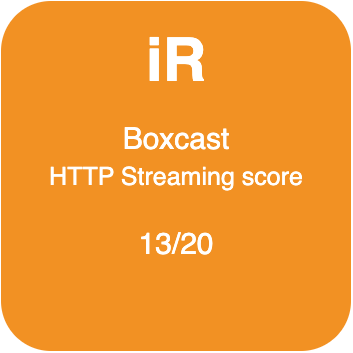 Boxcast HTTP Streaming score: 13/20
Estimated cost for a 1000 HD viewers 1-hour live stream following Apple recommendations
Yearly Experience Plan (for more than 30 frames per second): $780
Yearly ticketing add-on: $600
Total for free event: $1380 (iReplay.TV: $63.00)
Boxcast takes a 25% cut on sales
Total for a $10 event: $3880 (iReplay.TV: $63.00)
Restrictions that prevent full compliance with Apple HTTP Streaming recommendations:
4-second segment duration
First impression (before registration)
Boxcast appears to offer several unique features that are not typically found among other online video providers. These include specialized hardware and software for transcoding, support for HEVC encoding, high-cost Cloudfront delivery, automatic captioning for VOD, and podcasting capabilities. Additionally, Boxcast appears to prioritize video quality not only in the delivery stage but also during the ingestion process, which sets them apart from many other providers in the industry.
The user interface of Boxcast is simple and streamlined, allowing for easy navigation and efficient use.
It's important to note, however, that Boxcast requires an annual commitment, meaning that you must be prepared to pay for a minimum of 12 months of streaming regardless of how frequently you use the service or whether you need to extend your plan in the coming year.
While expenses related to transcoding, storage, bandwidth, and support make up a substantial portion of the cost structure, they are only displayed in small mouseovers next to the term "unlimited."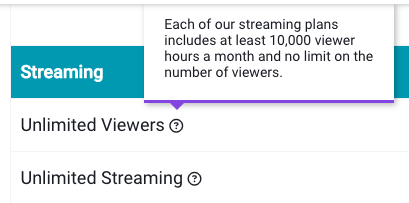 Based on our test stream of 1 hour with 1000 viewers, it was determined that this stream alone would account for 10% of the monthly allocation for the unlimited plan. Therefore, it is unlikely that this plan would be suitable for streaming content for 720 hours in a single month (only one 24/7 slot)
Free trial impressions
The free trial of Boxcast does not have many limitations compared to other online video providers (OVPs). The video quality provided by Boxcast is the best among all the OVPs tested on this blog. However, there is an oddity in that the 1080p60 stream delivered by Boxcast has a much higher bitrate (average: 12521.74 kb/s, max: 17212.28 kb/s according to HTTP Streaming Tools) than the one I sent (7800 kb/s), and this high quality is unlikely to be consistently accessible to many viewers due to variability issues. The high quality also comes with a very noticeable delay, the highest among the tests (40 seconds), although the standard Boxcast flow was used. Furthermore, Boxcast did not adhere to Apple's recommendations for segment duration, with a 4-second duration, but it was still the only OVP tested that did not significantly reduce the video quality compared to the source stream.
I have been hosting and delivering podcasts even before Apple included them in iTunes, so I really value the ability to add a live event directly to a video and/or audio podcast, although I think there could be more flexibility in this feature.
Being an EU citizen, I am mindful of GDPR compliance, but I have not found any delivery solution based in Europe, particularly since it seems that the ingest and delivery processes are being handled on AWS.
Bottom-line
It's refreshing to see an online video provider introducing something new in a market where most companies tend to copy Vimeo, which has become less appealing over the past few years. Although it's not flawless, Boxcast can be recognized as an innovative player with features like HEVC support, likely HLS Push Support (also known as Boxcast Flow), podcasting, highlight clipping, and specialized apps, even though it doesn't fully adhere to industry standards.
Who is it made for?
Boxcast is more focused on catering to recurring events such as those held by churches or sports organizations, as opposed to one-time events, especially with their annual commitment requirement.
Their revenue-sharing model for anything that's behind a paywall makes Boxcast best suited for free broadcasts, offering viewers the convenience of watching live, on-demand, or downloading through podcasts.
How to get minute-based pricing rather than a yearly subscription plan and get features such as full compliance with the industry HTTP Streaming recommendations, dedicated expert for your live streaming events, and more?
By opting for iReplay.tv's repeater feature for your video and live events, you have the option to retain your Boxcast subscription while also reducing your costs. If the outcomes meet or surpass your expectations, you can transition entirely to iReplay.tv for superior video quality, dedicated professional services from experienced experts of over 20 years, and transparent billing.
Please
sign in with LinkedIn
for a free trial now