tl;dr
If you want clear 'minute-based' pricing, all-included services instead of a monthly $5000 over a 12-month commitment to getting time-shifting/rewind/DVR, 'real green' streaming (not restranscoding twice when unnecessary), please scroll directly to the
bottom of this page.
What is Synamedia Quortex?
Quortex.io is a cloud-based video delivery platform, founded by former employees of Ateme broadcast transcoders that allows broadcasters, content owners, and distributors to deliver video streams to their audiences on any device, anywhere in the world. The platform offers tools for video delivery and management such as content management, workflow automation, analytics, and monetization. It can be integrated with other systems and platforms through APIs and SDKs.
It's common to observe OVP relying on external cloud solutions such as Amazon AWS charging a premium for basic features like Live2VOD/rewind/DVR or idle instances as these charges come from the cloud provider itself
Synamedia Quortex Play is their general streaming offer while their recently announced Synamedia Quortex Link is targeting point-to-point streaming (to replace satellite)
What is the iReplay.tv HTTP Streaming score for Quortex?
iReplay is testing what an online video provider is outputting against the official Apple HLS Authoring Specification for Apple Devices as they have been the recommendation for the whole industry since 2009, and Apple HTTP Streaming Tools are used for all interoperability checks (transcoders, packagers, streaming servers, players)
Quortex customers can receive the full score details with their iReplay free trial.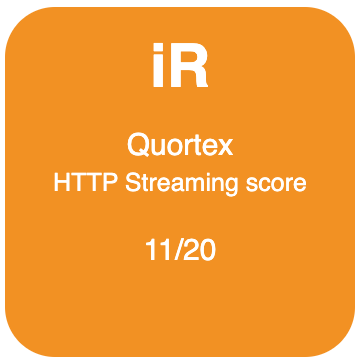 Quortex HTTP Streaming score: 11/20
Estimated cost for a 1000 HD viewers 1-hour live stream following Apple recommendations
Yearly Entreprise Plan (for more than 30 frames per second): $60,000
Total for event: $60,000 (iReplay.TV: $63.00)
Total with professional services (30 minutes response time with Quortex): $60,000 (iReplay.TV: $143.00)
Restrictions that prevent full compliance with Apple HTTP Streaming recommendations:
No 15' playlist window duration
First impression (before registration)
When Quortex was introduced, it seemed that their offerings were very similar to a segment of the iReplay.tv business model at that time, which included VOD2Live, live, or 24x7 channels. However, their pricing model, which was based on GB, appeared to rely heavily on third-party cloud providers (with expensive instances) and seemed to take inspiration from Uplynk (now owned by Edgio). Following its acquisition by Synamedia, Quortex has become the more adaptable, cloud-based component of Synamedia's business.
The platform is advertised as a 'pay-as-you-grow' solution, but it's worth noting that you will be charged approximately USD72 for an idle resource, similar to how AWS bills for inactive resources. Furthermore, the platform provides limited features beyond basic live streaming without any commitment.
The messaging appears to emphasize 'green streaming.'
Free trial impressions
Despite being marketed as environmentally friendly, Quortex solely offers live inputs and transcoding as a source, which is unexpected considering there is no VOD2Live or restreaming functionality available. When selecting an ingest region, it is necessary to commit to it, and it relies on AWS Services, specifically AWS Cloudfront for delivery.
While it is one of the few services that allow for (minimal) encoder configuration, this could be attributed to the fact that it was founded by Ateme engineers. However, what is peculiar is that the default framerate is fixed at 25 fps, and we can choose different keyframe intervals for each rate, which could pose challenges for proper playback on all devices. During testing, we experienced multiple frame drops and the source was significantly altered, even at the recommended 7.8 Mbps when using full 60 fps with fast-paced content. This indicates that 25 fps may be a strict requirement. It is suspected that despite utilizing AWS, Elemental Medialive is not utilized, as the Elemental live transcoder delivers superior video output with the same source.
Furthermore, there is no player or preview functionality (with the exception of a thumbnail image for input), which is peculiar for a video service.
Despite being EU-based, there doesn't seem to be any option to choose an european ingest or delivery provider
Bottom-line
Synamedia Quortex is in the same league as Brightcove for pricing, as it requires a (huge) bill to get some features quite common nowadays.
Who is it made for?
Quortex is a valuable addition to Synamedia's portfolio as it provides a cloud-based service to their broadcast customers with substantial budgets, as opposed to relying primarily on hardware components until the end of 2022. However, this is the primary and likely only target market since customers who are already familiar with cloud-based services, regardless of whether they use minute-based or GB-based pricing models, will not appreciate the minimum $60,000 commitment required to access standard features such as catchup DVR for live streams.
That said, Quortex may be suitable for broadcasters launching high-scale popup channels (such as a sports event for a few hours or days) who don't want to manage them in-house directly with Amazon AWS or Microsoft Azure, as they may not have video-knowledgeable personnel like those available with Quortex. However, the quality of Quortex's output is not on par with AWS Elemental Medialive.
How to get pristine video quality, no unnecessary re-transcoding for ready-to-broadcast content, minute-based pricing rather than a yearly commitment and get features such as full compliance with the industry HTTP Streaming recommendations, dedicated expert for your live streaming events, and more?
By opting for iReplay.tv's repeater feature for your video and live events, you have the option to retain your Quortex commitment while also reducing your costs, and getting missing features such as rewind/DVR/catchup for free. If the outcomes meet or surpass your expectations, you can transition entirely to iReplay.tv for superior video quality, dedicated professional services from experienced experts of over 20 years, and transparent billing.
Please
sign in with LinkedIn
for a free trial now
Disclosure: one (Julien Villeret) of the founders of Quortex had been knowing iReplay.TV activities and myself before starting Quortex.