tl;dr
If you directly want to get advanced features like unlimited concurrent streams, ABR (adaptive bitrate) streaming, time-shifting/rewind/DVR, m3u8 HLS URL for your apps, professional services for important live streaming events with no monthly or yearly subscription, or reduce your Castr.io traffic costs, please scroll directly to the
bottom of this page
As for all OVP charging on data usage, it's difficult for their customers to estimate the cost for their event, as they can not know their audience, and even less their audience connectivity
What is the iReplay.tv HTTP Streaming score for Castr.io?
iReplay is testing what an online video provider is outputting against the official Apple HLS Authoring Specification for Apple Devices as they have been the recommendation for the whole industry since 2009, and Apple HTTP Streaming Tools are used for all interoperability checks (transcoders, packagers, streaming servers, players).
You can check the HTTP Streaming score details in our
Online Video Providers comparison
.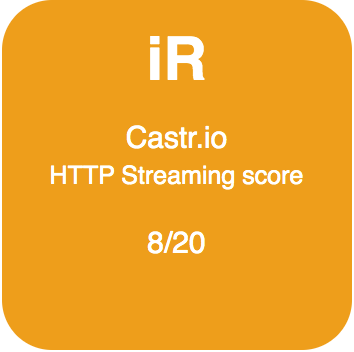 Castr.io HTTP Streaming score: 8/20
Estimated cost for a 1000 HD viewers 1-hour live stream following Apple recommendations
Monthly Premium Plan: $150
Data overage (1.31 TB): $327.50 ($0.25 per GB)
Total without professional services: $477.50 (iReplay.TV: $63.00)
Support (not sure it can be called Professional Services): $170
Total with professional services support: $647.50 (iReplay.TV: $143.00)
Restrictions that prevent full compliance with Apple HTTP Streaming recommendations:
Unknown ABR support
Unknown maximum bitrate
First impression (before registration)
The website's homepage does not contain any video content to assess the live or on-demand streaming services offered by Castr.io. Their pricing structure is limited to monthly or yearly plans, with no option for pay-per-use.
Castr pricing structure is somewhat intricate, as there are two primary options available: Multistream, which allows you to simulcast your stream to multiple social media destinations similar to Restream, and All-in-one, which gives you the flexibility to stream to nearly any location (almost) under your own terms.
The primary expense for events with a large audience, which is usage measured in minutes or bandwidth/traffic, is not clearly specified. While every plan includes some data, determining approximate usage, particularly with ABR, requires the use of a calculator.
Although transcoding is assumed to be the primary expense for VOD archiving, it appears to only be accessible for live streaming and solely included in the $150 All-in-one premium plan.
Free trial impressions
The user interface offered by Castr.io is sleek, uncluttered, and swift, making it highly convenient to prepare your live stream time slots. There is no preview, the event is live as soon as you start publishing from your transcoder
As the 'multi-stream' offer is only what once was called relaying (and now restreaming or simulcasting), there was no issue detected
As most OVPs lack unique features, I fail to comprehend the significance of Castr.io providing a desktop app, which turned out to be a web-view app of the website rather than an OBS-like application, unless it is intended for use in single-app conference mode.
As the player provided by Castr.io was incapable of playing certain test streams, there is no compelling reason to utilize their player.
Instead of relying on an anycast-like URL, it is necessary to specify the region where you intend to ingest your live stream on Castr.io. However, it is possible to modify this region at a later time.
The quantity of concurrent streams permitted with the All-in-one plan is exceedingly restricted, whether for live streaming or scheduled restreams (presumably due to external CDN cost restrictions). This restriction applies even when restreaming a single video, such as with YouTube Premiere.
Despite requesting assistance to test Adaptive Bitrate (ABR) streaming, it is not feasible to trial it during the free trial period, which is a significant drawback for those who wish to conduct an end-to-end platform assessment on multiple devices. However, default transmux is supported, allowing streaming at 7800 Kbps.
As an EU citizen, I am sensitive to GDPR compliance, but I have not come across any option for a delivery solution based in Europe.
Bottom-line
There is no option for pay-per-use, and a monthly subscription is mandatory. It is suggested to choose an annual subscription.
The majority of "safe playback" features are unavailable unless you opt for the $620 monthly plan.
Numerous restrictions on various "numbers," such as uploaded files, concurrent streams, multi-stream destinations, and folders, imply that the OVP is heavily dependent on external providers.
In addition to an expensive monthly plan data overage costs around $0.015 per minute for 8 Mbps HD playback as traffic is billed at a rate of $0.25 per GB.
The $320 monthly plan is required for live event support; however, the video-related skills of Castr.io may be limited, as suggested by the support responses and copywriting articles on their website.
Who is it made for?
Castr.io appears unsuitable for one-time events, low-budget events, high-performance / large audience events.
Castr.io appears to focus on customers who value a sophisticated user interface (like Vimeo), have a well-established and steady audience, and are unconcerned with advanced playback and reliability features.
For customers willing to commit to an annual plan, "Multistream" presents a reasonable alternative to Restream for social media-only streaming across multiple destinations at a lower cost, although it still necessitates a subscription.
How to reduce Castr costs and get features such as Time-shifting/Rewind/Start-over/DVR, adaptive bitrate (ABR) streaming, M3U8 HLS URL, unlimited concurrent streams for free?
By opting for iReplay.tv's repeater feature for your video and live events, you have the option to retain your Castr.io subscription while also reducing your delivery costs. If the outcomes meet or surpass your expectations, you can transition entirely to iReplay.tv for superior video quality, dedicated professional services from experienced experts of over 20 years, and unique features like 24/7 channels with a play out system.
Please
sign in with LinkedIn
for a free trial now