tl;dr
To avail of advanced features such as unlimited 24/7 virtual channels (or FAST), improved video quality, better compatibility with streaming devices, full compliance with HTTP Live Streaming (HLS) Authoring Specification, and professional services for essential live streaming events, without having to subscribe to monthly or yearly plans or if you simply want to reduce Dacast bandwidth costs, kindly scroll down to the
bottom of this page
When it comes to all OVPs charging based on data usage, it becomes challenging for their customers to predict the expenses associated with their event as they just cannot have the full knowledge about their audience and their connectivity, making it difficult to estimate the potential costs
What is the iReplay.tv HTTP Streaming score for Dacast?
iReplay is testing what an online video provider is outputting against the official Apple HLS Authoring Specification for Apple Devices as they have been the recommendation for the whole industry since 2009, and Apple HTTP Streaming Tools are used for all interoperability checks (transcoders, packagers, streaming servers, players)
Dacast customers can receive the full score details with their iReplay free trial.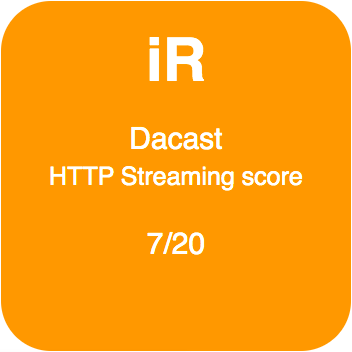 Dacast HTTP Streaming score: 7/20
Estimated cost for a 1000 HD viewers 1-hour live stream following Apple recommendations
Not fully possible as the max bitrate doesn't seem to be able to go beyond 4.7 Mbps but
Monthly Scale Plan: $250
Total without professional services: $250.00 (iReplay.TV: $63.00)
Total with professional services support: $250.00 (iReplay.TV: $143.00)
Restrictions that prevent full compliance with Apple HTTP Streaming recommendations:
Maximum bitrate 4.7 Mbps
3-second segment duration
Strict transcoder requirements (keyframe interval and framerate)
First impression (before registration)
The website's main page features an explainer video of poor quality, and this is the only video accessible. Additionally, their pricing model is restricted to either monthly plans (limited to Scale plan) or annual subscriptions, without any pay-per-use alternative.
The primary cost associated with events that have a considerable audience, measured in terms of usage minutes or bandwidth/traffic, is not explicitly stated. Although every plan comes with some data, it can be challenging to estimate the approximate usage, especially with ABR. To do so, users need to employ a calculator that determines the data overage pricing at a rate of $0.25 per GB.
Free trial impressions
The user interface and search tools provided by Dacast appear outdated and sluggish, making it inconvenient to manage substantial volumes of assets.
RTMP configurations are overly complex for present-day use, featuring outdated username authentication methods from a decade ago, which hinder the utilization of numerous contemporary transcoders.
Theoplayer, the media player, takes an extended period to launch and tends to skip frames frequently, regardless of whether the streaming is live or VOD.
When using Dacast, it is crucial to specify the region where you plan to ingest your live stream. Note that once you have set the region, it is not possible to modify it later. Also, there is no preview available, and the event becomes live as soon as you start publishing from your transcoder.
The end-to-end latency is high (around 30 seconds on a desktop browser with fiber). No low-latency solution seems to be available.
VOD2Live is limited to a single video, in a YouTube Premiere style
The ABR transcoding feature restricts the bitrate to 4.7 Mbps. To achieve a playback quality deemed 'acceptable,' it is necessary to adhere to strict requirements regarding the framerate and keyframe interval.
As an EU citizen, I am sensitive to GDPR compliance, but I have not come across any option for a delivery solution based in Europe.
Bottom-line
There is no option for pay-per-use, and a monthly subscription is mandatory. It is suggested to choose an annual subscription.
There is no failover option (for delivery), but there is a backup solution (for ingest)
Data overage costs around $0.009 per minute for 4.7 Mbps HD playback as traffic is billed at a rate of $0.25 per GB.
The $250 monthly plan is required for live support; however, the video-related skills of Dacast may be limited, as suggested by the ingest restrictions and copywriting articles on their website.
Who is it made for?
Dacast appears to be designed for two primary use cases:
Firstly, as Dacast does not charge for ingest, it can be a suitable choice for CCTV or webcams with a low bitrate, where ingest requirements, frame skipping, and data overage are not as significant concerns as for a live-streaming event.
Secondly, given that transcoding is offered for free, Dacast can be a feasible option for VOD archiving or an origin server (for a repeater or distant ingest).
Since Dacast has the ability to stream content while operating within the confines of China's internet restrictions (the "great firewall"), it is also feasible to consider China-based streaming as an alternative if streaming from locations on the periphery (often Hong Kong) does not meet your specific needs.
It appears that Dacast primarily caters to customers who host regular events (such as churches), mainly targeting desktop Chrome browsers, as evidenced by the lowest HTTP Streaming score in our tests.
How to reduce Dacast costs and get features such as full compliance with industry standard HTTP streaming for maximum interoperability and professional services?
By opting for iReplay.tv's repeater feature for your video and live events, you have the option to retain your Dacast subscription while also reducing your delivery costs. If the outcomes meet or surpass your expectations, you can transition entirely to iReplay.tv for superior video quality, dedicated professional services from experienced experts of over 20 years, and unique features like 24/7 channels with a play-out system.
Please
sign in with LinkedIn
for a free trial now