Professional video streaming platforms have revolutionized the way content is delivered and consumed. These platforms cater to the discerning needs of content creators, business owners, and organizations that prioritize superior quality experiences and a robust Return on Investment (ROI). Whether your objective is live streaming, Video-On-Demand (VOD) services, or establishing 24/7 TV channels, there's a diverse array of options available. In this article, we'll delve into top-tier solutions that address the requirements of professionals who value both quality and ROI.
iReplay.TV
Live Streaming:
iReplay.TV shines as a beacon of excellence, prioritizing service quality and impeccable video delivery. This platform takes a distinctive approach by assigning a dedicated video expert to every live event, ensuring unmatched streaming experiences. What sets iReplay.TV apart is its unwavering commitment to delivering not just content, but superior human-driven experiences. The platform's transparent pricing structure guarantees a compelling return on investment for each live-streaming endeavor.
VOD:
iReplay.TV offers a seamless integration of content from a diverse range of source files. Going beyond, it can also integrate seamlessly with existing DVR setups from previous live streams, ensuring the continuation of content. This dynamic adaptability opens avenues for versatile delivery options, including paywall access and subscriptions reminiscent of popular podcast models.
24/7 TV Channels:
iReplay.TV excels at enabling swift TV channel creation, with a mere two minutes required for setup. This remarkable feature is accomplished by harnessing existing VOD assets or archived live streaming content. It stands out for its ability to support an unlimited range of 24/7 virtual channels, encompassing both Free Ad Supported TV (FAST) and premium content offerings.
Target
: high-value content (paywalls and subscriptions)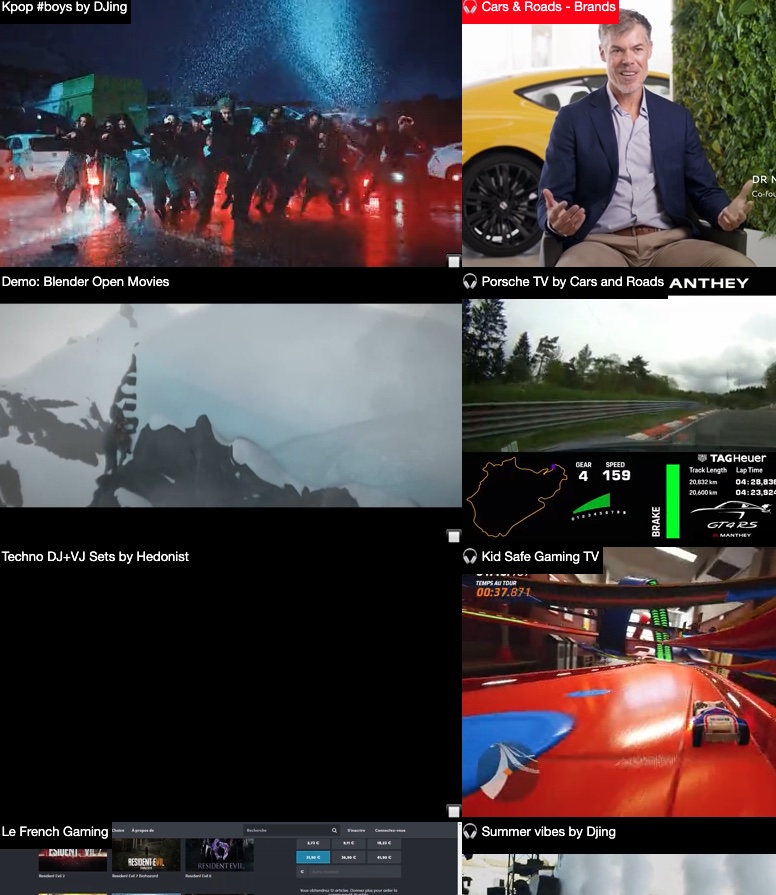 Vimeo
Live Streaming:
As one of the best livestream platforms, Vimeo crafts live streaming solutions tailored to a broad spectrum of needs. From small businesses to large enterprises, Vimeo offers a suite of features including real-time analytics, monetization options, and customizable video players. This makes it a solid choice for a variety of live events.
VOD:
Beyond live streaming, Vimeo boasts a comprehensive platform designed for hosting, distributing, and monetizing VOD content. With privacy settings at your disposal and the ability to sell or rent videos, creators exercise full control over content consumption dynamics.
24/7 TV Channels:
Although Vimeo primarily focuses on on-demand content, its innovative Showcase feature empowers users to curate engaging collections of videos, effectively simulating the experience of a 24/7 TV channel.
Target
: video agencies (portfolios)
Brightcove
Live Streaming:
Brightcove stands as a go-to solution for top live streaming solutions companies. It provides a professional-grade live streaming platform equipped with real-time analytics, interactive elements, and multi-device delivery capabilities. Businesses gravitate towards Brightcove for hosting webinars, conferences, and live events.
VOD:
Brightcove's VOD solutions encompass content management, distribution, and monetization tools. This comprehensive approach solidifies it as a reliable choice for delivering high-quality video experiences to global audiences.
24/7 TV Channels:
Although Brightcove doesn't offer a dedicated 24/7 TV channel feature, its flexible playlist and scheduling options can be creatively harnessed to simulate continuous streaming experiences.
Target
: Corporate (webinars and archiving)
Kaltura
Live Streaming:
Kaltura's live streaming solutions serve a dual purpose—addressing internal communication needs as well as public-facing events. With features like interactivity, seamless integration options, and content syndication to various platforms, Kaltura offers versatility and robustness.
VOD:
Kaltura's video platform is designed for organizations seeking to securely manage and deliver VOD content. Emphasizing customization, monetization, and in-depth analytics, it empowers content-driven enterprises.
24/7 TV Channels:
Kaltura's platform facilitates the creation of linear channels complete with scheduled programming, making it a versatile choice for those intrigued by 24/7 TV streaming.
Target
: IT companies
Wistia
Live Streaming:
Integrated within its comprehensive video marketing platform, Wistia's live streaming solutions offer engagement analytics, customization options, and strategic lead capture during live events. This integration positions it as an ideal choice for businesses aiming to optimize their video marketing efforts.
VOD:
Wistia caters to businesses keen on leveraging video for marketing and sales. Its suite of tools includes features for embedding videos on websites, in-depth analysis of viewer behavior, and strategic lead capture.
24/7 TV Channels:
While Wistia's platform doesn't intrinsically possess a built-in 24/7 TV channel feature, its adaptability shines through its capacity to simulate such an experience using playlists and strategically scheduled content.
Target
: Marketing teams
In the realm of professional video streaming platforms, the emphasis is on superior quality experiences and exceptional ROI. Each platform, while distinct, offers a suite of tools and features that cater to the unique requirements of professionals aiming to engage audiences through live streaming, VOD services, or continuous 24/7 TV channels. By considering one of these options, professionals can align their streaming strategy with platforms that prioritize quality experiences and ROI, ultimately delivering exceptional value to both creators and viewers.